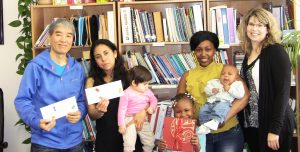 Thank you so much for all the Newcomers who wrote to CLASS telling us how learning English has changed your life.  We had 8 entries, all of them were interesting to read and we value each of your papers.  We hope that with your permission we can display them on our website.  It is important for others, Canadians and Newcomers, to know that learning English is essential to living in Canada, and that CLASS is willing to help them.
Our judges for this contest were 2 CLASS Board members:  Donna Garnett and Alva Andersen.  It was a difficult decision they said and each were very interesting to read.
Our winners for the 2015 International Adult Learners Week Writing Contest are:
1st place:  Sung Chul Kim from Korea (Won a $100 Coop Gift Certificate, article in newspaper with picture)
Inspiring
Passion to learn English fluently
Love of learning
Desire to obtain his career in Canada
2nd place:  Esmeralda Giadalipe Alvarez Agilera from Mexico (Won a $50 Harp Gift Certificate)
Determination
CLASS has helped her to be more confident
She set goals and will achieve them
3rd place:  Mamadama (Adama) Camara from Guinea, West Africa (Won a $25 Boston Pizza Gift Certificate)
CLASS helped her to learn English, make friends and support her
CLASS taught her information about Canada
She joined in the town events and parades
Congratulations to each of you, and also thank you for all the Newcomers who wrote papers.
Winners of the International Adult Learners Week Writing Contest